What arts, social sciences and humanities expertise brings to leadership
Jane Ryan
March 2022
For John Germov, currently the Deputy Vice-Chancellor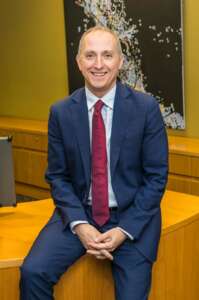 (Higher Education) at Victoria University in Melbourne, leading the Australasian Council of Deans of Arts, Social Sciences and Humanities through fee deregulation and other major changes was a significant chapter in his leadership career.
"I valued the opportunity to lead DASSH. To be representative of a broader base of the humanities and social sciences was really enlightening and it enabled me to meet and work with a lot of people from across the sector," he told current President Catharine Coleborne.
"We were united by the seemingly unending attack on our disciplines. This took the form of pressure in terms of student enrolments, the political football our disciplines often become, and the urge of governments, no matter what persuasion, to prioritise STEM disciplines."
Those challenges still sound familiar.
Reflecting on a career in academic leadership with a humanities and social sciences background, he said being President of DASSH between 2013 and 2015 was integral to his professional development.
"You're the representative body for the sector and you're thrust into the political realm having to drive and seek feedback on submissions to public inquiries, consultation documents and media issues with tight deadlines – it's exhilarating", he said.
"You quickly learn that within our sector there are actually quite a diversity of views. Trying to represent that diversity in a way that is still meaningful and authentic can present its challenges.
"But it heightens, for me, the advocacy role – that you can't just rest on your laurels, you can't just assume people will value what you do, you have to be out there screaming it from the rooftops, frankly."
Professor Germov said working with DASSH taught him to distil the message for all audiences.
"You've got to be very clear, precise and brief – and treat it as an opportunity to give ministers, shadow ministers and advisors something tangible to take away from that meeting," he said.
"It shouldn't be that you are always asking for something with 'cup in hand'. Sometimes it should be about helping them understand the value of what you do and building a respectful relationship so that eventually they come to you for input.
"You can often find some common ground and also convey some of the idiosyncrasies of different policy positions."
Having spent a year as interim Vice Chancellor with CSU, former Provost Professor Germov began his career as a sessional lecturer at various institutions in Melbourne, working his way through the ranks after securing an ongoing position at the University of Newcastle, where he remained for 25 years.
"Most people jump from University to university to progress their career. I had opportunities to do that throughout my career, but every time that happened a door opened at Newcastle," he said.
"While I have subsequently worked at other universities, the University of Newcastle invested a great deal in me and I'll always be grateful for that. That experience sparked my ongoing interest in workforce planning and explains why I'm a passionate advocate of investing in staff professional development."
Professor Germov is highly recognised for his 30 years in academia and 14 years in senior leadership positions.
He holds a PhD in Sociology from the University of Newcastle, and his research specialises in the social determinants of health, the social origins of food and alcohol habits, workplace change, and historical sociology. He has published 24 books.
But what affect has his humanities and social science background had on his success as a leader?
"In the social sciences you're always taught to view the world from other people's perspective. I think that does stand you in good stead to be an effective manager," he said.
"As a social scientist you look to see the 'forest for the trees'. You try not to individualise. It's about looking at the sector, the system, organisational structures, and most importantly workplace cultures. It takes you away from a formulaic approach to leadership.
"You're more in tune with using your own emotional intelligence and using some of those informal power structures around persuasion and understanding as you to try to negotiate your role."
During his tenure as President, Professor Germov faced specific challenges around fee de-regulation and other issues.
"At the time we were proactively engaging with the learned academies and other associations, something we had not been successful at before, and trying to build an alliance of collective bodies; some were willing while others weren't.
"We wrote to the science associations and many supported us in opposing the intention to remove funding from HASS disciplines." We certainly made some headway, and it laid the groundwork for future collaboration.
While putting up a fight was important to Professor Germov, and that fight is ongoing, he said it's important to approach leadership with pragmatism.
"It's hard not to have a 'woe is me' attitude to how humanities are treated in a country like Australia in particular," he told President Coleborne.
"What was instructive was talking to the heads of STEM organisations. They would similarly convey that they were not being heard and that everything was about impact or commercialisation, not foundational science. They were concerned about the the lack of science being used to underpin public debate. It opened up the potential for constructive dialogue and common ground. It's encouraging to see sector bodies collaborating much more in recent times. As Barrack Obama is fond of saying, 'better is good'. In the contest of policy ideas, any progress is worth the fight."
This article is part of a series recognising the outstanding leadership achievements of past DASSH Presidents as we celebrate our 20th Anniversary. To find out more visit the DASSH website.